June 9 (10-12pm PDT) Academic Writing Workshop: Lead, Neil Atlantic NEIHR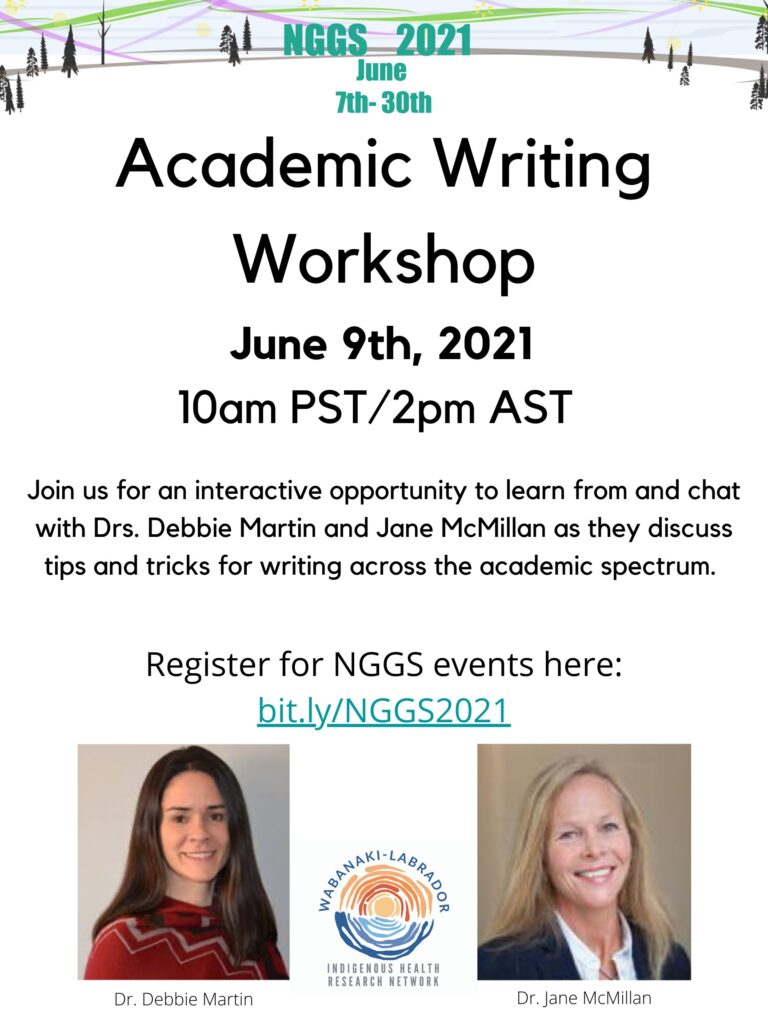 Join us for an interactive opportunity to learn from and chat with Drs. Debbie Martin and Jane McMillan as they discuss tips and tricks for writing across the academic spectrum. Topics will include: writing strategies for various venues, collaborative & community-engaged writing, two-eyed seeing and trauma-informed writing, how to tackle writing criticism, and how to embed self-care and sustainability into your publishing journey. Audience questions are welcomed.
June 10 (9-11pm PDT) Paint workshop: Lead, Allison (SK IMN)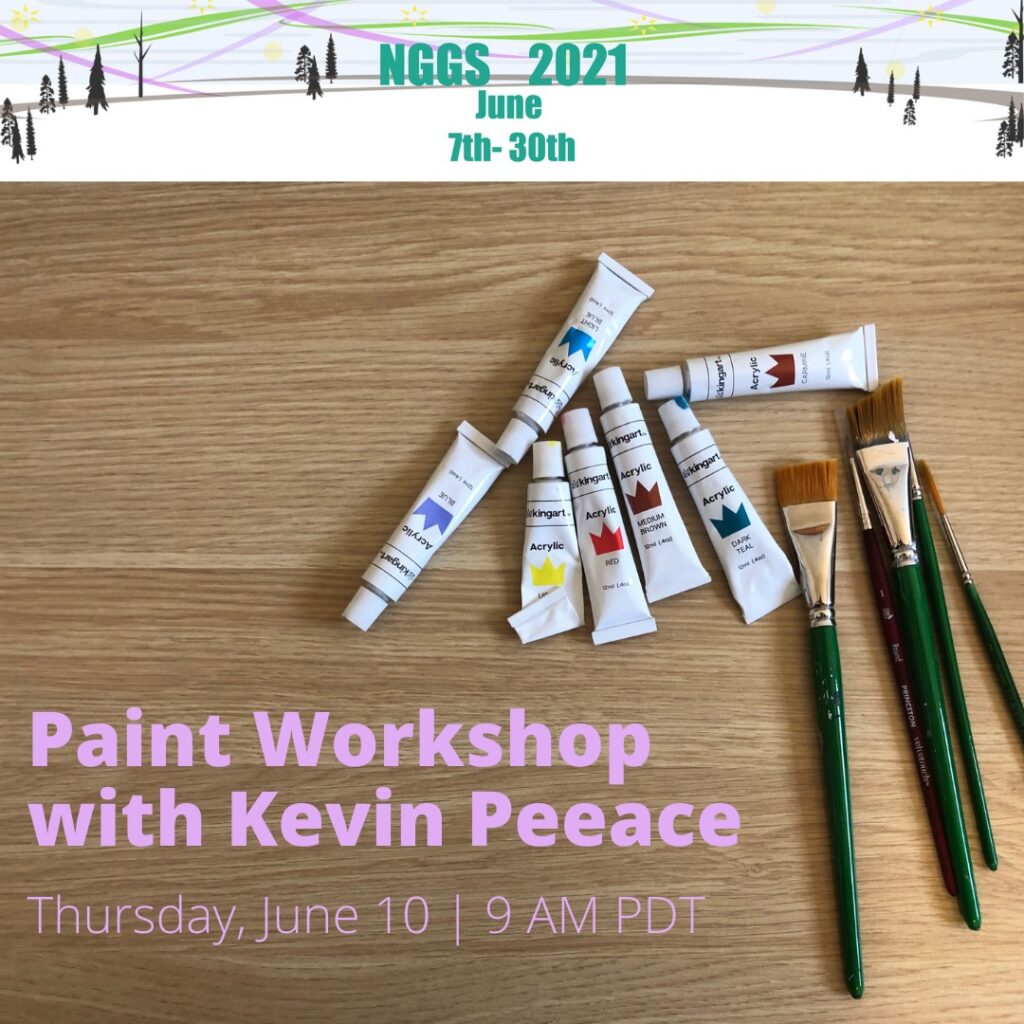 To see the screen shots from the workshop. Please see them here.
Join us for a fun painting workshop with Kevin Peeace! Supplies provided by NGGS: canvas, acrylic paint, paint brushes, black sharpie. Supplies you'll need to have on hand: paper towel/rag, water cup, paper plate/paint palette, and a sense of adventure and willingness to have fun!
Kevin L. Pee-ace was born in Kelvington, Saskatchewan and is a member of the Yellowquill First Nation and Peter Chapman First nation. In 1995 he committed to art full time. Art and education have been constants throughout his career, which has led to a collaborative approach in creating class murals with many schools throughout Saskatchewan. These include many on campus and throughout the province! You can read his full artist bio here.
Many of his works can be found on the University of Saskatchewan campus, including "Rise of the Morning Star" in the Arts Building. You can see the video on this piece here.
Supplies Needed:
Canvas (suggested size 12×12)
Acrylic paint (various colours)
Black sharpie marker
Paper towel/rag
Paint brushes (various sizes)
Water cup
Paper plate or paint palette
A sense of adventure and a willingness to have fun!
June 11 (10-12pm PDT). Three Minute Thesis Competition Lead, Tara Atlantic IMN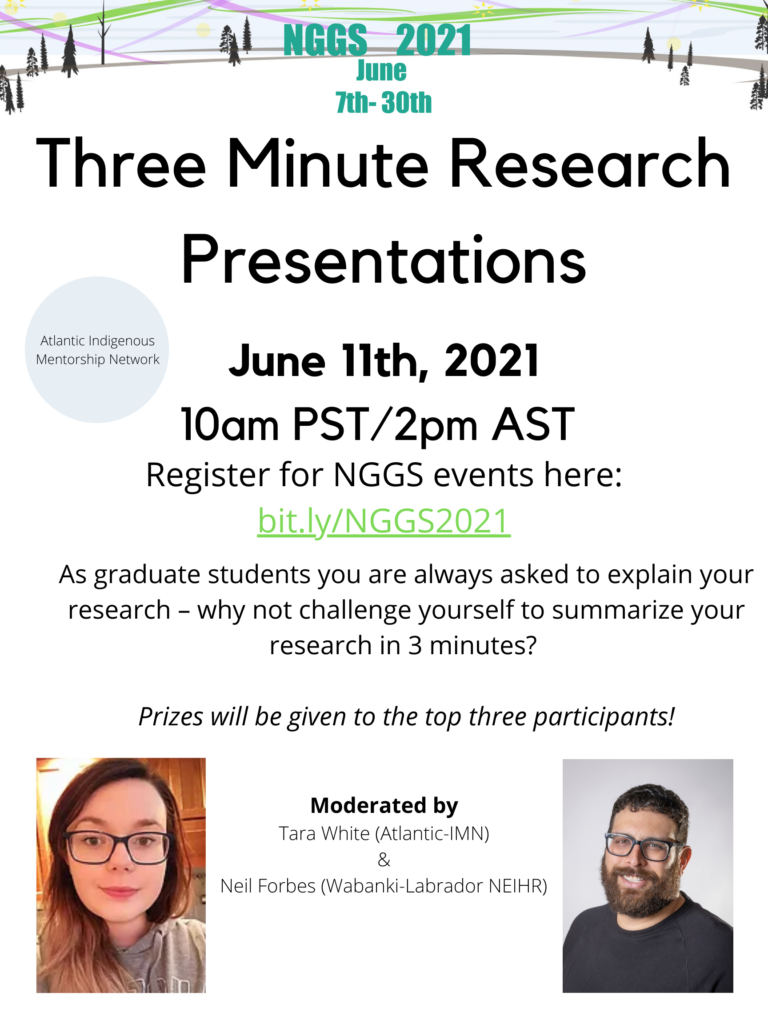 As graduate students you are always asked to explain your research – why not challenge yourself to summarize your research into a three minute engaging presentation, while engaging in friendly competition with your peers? Bonus: by participating you are adding to your CV and competing for a prize!