June 7 – 29, 2021
The National Gathering of Graduate Students (NGGS) is a national annual gathering that brings together Indigenous graduate students doing research on Indigenous health and well-being. The NGGS is meant to foster belonging and support for Indigenous graduate students, as well as a place for skill and capacity building and knowledge transfer. By learning with and from other graduate students, Indigenous faculty, and allied scholars from across the country, the NGGS is a culturally relevant and scientifically rigorous meeting.

In response to the ongoing COVID-19 pandemic, we are moving forward with a virtual format for this year's NGGS, with events taking place throughout the month of June. Recognizing that this pandemic has been difficult for our students, the theme of NGGS 2021 is "Nurturing our Whole Selves" with a focus on events for self-care and relationships.
We are so excited to join and share (virtual) space together
REGISTRATION HAS NOW CLOSED.
All participants should have received a personal email with Zoom Links for their selected sessions.
If you have registered and would like to join other sessions; you can join any of the open sessions using the Zoom links found here. This page is password protected. The password is the same as the password for all the Zoom Session. If you need the password or have any questions, contact us at ombaashi@tru.ca.
If you have any questions or concerns, email us at ombaashi@tru.ca or sbandura@tru.ca
Overview
*Note: The cooking, beading and cedar rose workshops were very popular, we needed to limit the participation so we randomly selected the participants for those workshops.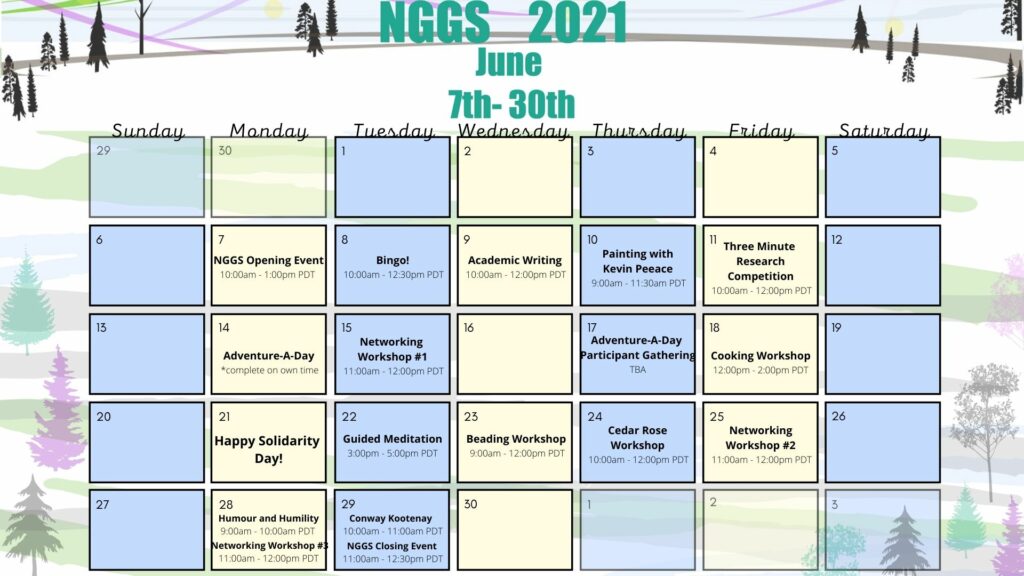 For Details: `
Week 1: June 10-11
Week 2: June 14-1
Week 3: June 22-24
Week 4: June 28-29